Flooding issues in and around North Cave, Hotham and Everthorpe

Update: Village meeting held Tue 25th February, 7pm in the Village Hall
We had a successful public meeting last night. The 39 attendees were mostly North Cave flood-affected residents, but also representatives from Newbald, South Cave and Ellerker Parish Councils. There were about 20 minutes of introductions, 50 minutes of presentation (download 10Mb PDF here) and about another 50 minutes of discussion.
The different types of flooding (river, surface and ground water) were explained, as they apply to our local catchments. In discussion, the overall mood was that a partnership approach is the best way to try to make changes. The Parish Council reps present will now discuss with their colleagues, but verbally they all agreed that being part of one larger partnership would have a number of benefits:
shared knowledge;
greater influence, politically and with the agencies;
greater efficiency – most of the PCs said that they are having meetings with ERYC/EA/YW, so they recognised that it might be possible to reduce the admin/comms burden for the agencies if a wider group could be represented at meetings.
recognition that the becks out of Newbald / Drewton / South Cave are geographically very similar and therefore face similar issues and opportunities. The need to think about opportunities and benefits beyond purely flood alleviation was well-received – the 'Chalkshire' biodiversity initiative was mentioned.
There was some scepticism in the room, as 'flood alleviation plans' have been produced, for example for South Cave, but not shared with the community. Unlike the FAS's east of the Wolds, funding is not so available as it was for WADFAS / COPFAS etc, as there are not thousands of properties at risk. There was also concern that possible areas for flood water attenuation are being proposed for housing. If this is so, there is a major disconnect between flood management and planning policies - an obvious statement, perhaps, but potentially a fixable problem.
The next steps are:
meeting with Agencies (see below) to determine their willingness to help set up a partnership;
further engagement with local Parish Councils and communities;
convene formal partnership meeting with agencies, landowners, residents;
agree scope and aims;
identify priorities;
seek funding;
set timescales for action;
publicity / wider engagement.
Update: North Cave Catchment - Meeting proposed with Agencies, April 2020
The meeting will be to discuss the setting up of a North Cave Catchment Partnership. Initial ideas for discussion are here: NorthCaveCatchment.html, which is a mind-map followed by a text listing of the information.
Please send any comments to flood@villagelink.info
Following meetings with fellow residents to better understand issues around the villages (particularly South Ings Lane, Nordham, Everthorpe), we subsequently met officers of the Environment Agency and East Riding Council to explain the issues to them. We have had positive responses as regards the possibility of setting up a local Catchment Partnership - as discussed below.
At the meeting on 25th Feb, we will outline ideas to date and discuss wider engagement with a partnership approach.
The following is based on an article written for Village Link in December 2019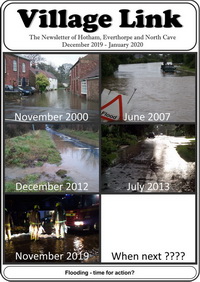 Our apologies, because this is going to be a bit of a damp issue, at least to kick off with. We are using our editorial privilege to start a conversation which we hope will lead to some serious action to help deal with the regular flooding events that affect our villages. We don't claim to have all the answers - they will only come when all the people (residents, landowners and farmers, Parish and County Authorities, Environment Agency and Yorkshire Water) get together. This is called partnership working and there has been precious little of it to date. So to begin outside our door...
Everthorpe Lane
Properties on Everthorpe Lane flooded on the evening of 14 November. The worst was averted for us because we called the fire brigade, who pumped out from the back of our property, and ERYC arrived with sandbags which prevented water coming in off the Lane onto ours and our neighbours' drives. In addition, we dug the grips from the Lane into the ditch at the south side of the Lane, which played a major part in diverting and storing flood water.
Although we have some flood damage, to some extent we 'dodged the bullet' but the warning is clear, from both this and the 2007 flooding (which was not as severe for us).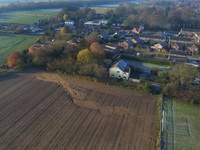 The source of water on Everthorpe Lane was the same on both occasions: the fields to the north of the Lane shed significant amounts of water. This time it was sufficient to overwhelm our properties. We are aware of similar flooding to our own (pluvial, or based on rainfall runoff) to properties in Everthorpe - but occurring on both 7 and 14 November.
So the clear warning is that this will happen again if nothing is changed. A '1-in-100 event' means very little any more. It could happen again next month, next year or the year after. We can and will do more to improve our property resilience, but the fact is that such large volumes of water should not be threatening properties in the first place.
'Downstream'
Although the ditch is designed to take water from the highway, when pumping or directing flood water into it, we are aware that this may well have effects downstream. 'Downstream', in this case, means following the road/field drain, and Little Moor Drain, to the rear of properties on the south side of Station Road, where they go into culvert, potentially causing water to back up at the rear of those properties - as happened on 14 November. The drain then pops out for a brief length at the front of properties on Station Road, opposite the primary school. From here, the water is culverted again under the school (what genius built it there?...) and, of course, the school flooded in 2007. The drain surfaces briefly within the grounds of The Croft, before going into culvert under Finkle Street. Again, the culvert can't cope, the water backs up and over-tops into Finkle Street, which has been flooded probably more often than any street in North Cave, despite Yorkshire Water adding a drain towards Mires Beck after the 2007 floods. The water would naturally flow from here, along Blanchard's Lane, to the beck, but being built up, and receiving rainwater from both Westgate and the Beck, Blanchard's Lane has been unable to cope in the past. Equally, we know that properties along the Beck suffered badly in November.
So, whilst it would be easy for us, on Everthorpe Lane to say "the ditches need cleaning out, to get the water away faster" there are obvious consequences for our neighbours in the rest of the village. "Dig the ditches / dredge the beck/river" is what is heard up and down the UK after flooding events, but watercourses can only take so much. And shifting it away, faster, always has consequences for those downstream. So what is the answer?
'Upstream'
We have to look 'upstream' into the catchment where the bulk of the rain is falling, and try to catch (or 'attenuate') the rainfall as close to where it is falling as possible. A catchment can apply at many scales. For North Cave Beck, it is an area of about 37 sq km, running up into the Wolds, beyond Newbald and taking in Hotham. For Everthorpe Lane, it is the playing fields and agricultural fields around, but especially north of, the Lane. For Everthorpe hamlet, it is agricultural land west of the hamlet. Every flooding situation is different, but it can only be dealt with by a catchment-based response, using landform, vegetation and 'leaky dams' to direct and hold water back in a storm, but allow it to drain away slowly afterwards.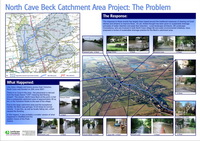 We produced the poster to the right in 2007 after the 25th June flooding, which affected large parts of the UK. Like a lot of good ideas borne of the flooding, nothing much came of it. Given that the 2019 flooding has been as serious as 2007 (and worse in some areas) it is past time to pick up the issue of a catchment-based approach issue. Most sensible people now accept that climate change is a reality, which will result in rainfall events of increasing frequency and severity, so future flooding is no longer 'if' but 'when'. And 'when' is most certainly not in 100 years!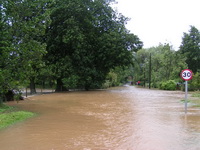 Just in case anyone thinks this can be dealt with by higher banks or dredging streams, let's just remind ourselves of the magnitude of the 2007 event: click through the photos from various parts of the villages
This is why water needs to be held, as far as possible, where the rain falls. Old ways of thinking about drainage are no longer sufficient to cope with the increasingly severe effects of climate change. But there are established techniques for holding back (attenuating) storm water.
Actions
We have been involved with Calderdale SlowTheFlow (http://slowtheflow.net), who have been installing many Natural Flood Management (NFM) features in the tributaries above the River Calder to help protect Hebden Bridge and other towns. There are similar successful projects at Pickering, Stroud and elsewhere. Two SlowTheFlow project we have been involved with are http://slowtheflow.net/you-can-slow-the-flow/ and http://slowtheflow.net/nfm-suds-opportunities/. Slow the Flow is starting to get national attention, from MPs and adjacent local authorities who want to learn from what they have achieved since 2016.
We need to set up the partnership referred to at the start of this article: residents, landowners and farmers, Parish and County Authorities, Environment Agency and Yorkshire Water. Initially, we would like to make contact with people who have been affected by flooding, so that we can build up a picture of what has happened, in this and previous years, in Hotham, North Cave and Everthorpe.
In addition, we would like to hear from anyone who has knowledge, whether professional or local, about flooding or drainage in this area.
As a first step, drop us a line at:
flood@villagelink.info to tell us who and where you are, what has happened, whether you have any specific thoughts on what could be improved, and whether you wish to help in any way.
We need to work together to create an effective approach that reduces the risk to all of our properties. Let's not wait for the next '100 year storm' - we haven't got that long!
Incidentally - it's not all doom and gloom - if we get this right, we could also improve the biodiversity of our area and attract important funding.